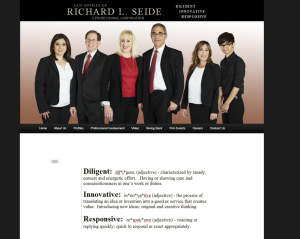 Richard L. Seide APC a Real Estate law firm located in Newport Beach, California,  is pleased to announce the launch of our website SeideLaw.com. Our website includes print and multimedia information about our practice, the organizations we support and updates on current events that impact the commercial real estate industry.
Compliant with the recent Google guideline updates, our website was designed to be fully accessible and responsive through any computer, laptop, tablet or mobile phone.
We invite you to visit our site at www.seidelaw.com.
As always, it is our pleasure to be of service to you.