Richard L. Seide, APC
Founded in 1997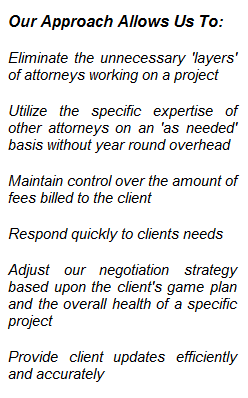 After two decades of being employed by traditional firms, Rick Seide elected to form his own small but wholly owned law corporation.  This entrepreneurial venture has allowed him and his staff to provide a level of responsiveness and client service in an industry that is, often, not known for either.
Our innovative approach to the practice of law is geared at providing you, the client, with quality legal work and a new and improved level of client service and communication while keeping costs at a reasonable rate.
Professional Relationships
In order to ensure consistent quality service and provide the wide range of services needed by the real estate and business clientele, our firm has developed long term relationships and partnerships with other attorneys proficient in related areas of law. The client does not bear the cost of the day to day overhead for these highly specialized professionals.  We have carefully chosen our relationships based on the desired areas of expertise, substantial number of years of experience and competency, and the high level of importance placed on client service.
Quality Control and Innovation
It takes consistent and concerted effort to maintain quality control within a busy law practice.  We strive to provide a consistent, quality work product and to continually improve the level of client service.  We utilize a complex litigation management program that enables us to track court rules, court deadlines and case status in all courts within five Southern California counties.  This allows us to manage cases with a precision we could only have dreamed of when we started our careers in law.
Client Education
We believe education is the key to staying at the 'top of your game' and we participate in continuing education to ensure we are abreast of changes in the law.  In an effort to support our clients,  we also offer a variety of educational seminar programs in areas of the law that impact their businesses.
Work Hard, Play Hard,
Rest, Rejuvenate